Hi, everyone!! I hope that this page on the author turns out to be helpful to you in some way I just need a small favour from you if you have read books by M. Crichton. Please send me your reviews of his any book or just which is your favorite one and why? And I will have them on my page. Click here to mail me.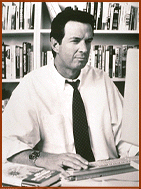 Michael Crichton's views on the Internet:

"The internet is either porn," he says sharply, " or simply full of errors." Michael Crichton, it seems, is no fan of the cyberspace. I am amazed to hear the world's most successful sci-tech thriller writer-Jurassic Park, The Andromeda Strain and now the latest, Timeline- denouncing Internet- the electronic medium of today. "I've now started my own official website," he says fiercely. "But only to correct the non-sense that appears about me other sites."
He was furious that the internet magazines Salon had reported that six Hollywood studios had turned down Timeline. "Not so," counters Crichton. In fact the author, through his agent, Mike Ovitz, had already made a deal with Paramount-one of the studios cited by Salon as snubbing Timeline.
Is there no good use of the net? Crichton takes off his glasses, stares ahead and muses. After a minute he replies: "Um, it's pretty good for tracking books." Crichton, who read anthropology at Harvard before attending medical school, made good use of the net to source the 80 or so books he needed when researching Timeline.
Timeline is about time travel and involves the transportation of a handful of people who are whisked back to 14th-century France by quantum technology. Its plot is a race against time to return the group from the Dordogne of 1357- complete with knights in shining armour- to America in 1999.

---

Profile:
John Michael Crichton (1942-...), is an American sci-tech thriller writer whose novels weave new technological possibilities and current social issues into imaginative, fast-paced plots. Crichton's stories may seem fantastic, but his skillful use of realistic detail makes them believable.
He was born in Chicago. While attending Harvard Medical School from 1965 to 1969, he wrote a series of mysteries under pen names. After receiving a medical degree, he decided to become a writer. His scientific interests appear in the novels The Andromeda Strain (1969), The Terminal Man (1972), Congo (1980), Sphere (1987), Jurassic Park (1990), and its sequel The Lost World (1995). Crichton has also used his novels to explore social issues. Rising Sun (1992) mixes intrigue with Japanese-United States business relationships. Disclosure (1994) deals with sexual harassment. Airframe (1996) describes the investigation of an airplane disaster. Crichton has directed several movies, including Westworld (1973) and Physical Evidence (1989). He also wrote and directed The Great Train Robbery (1978), based on his 1975 novel of the same name.
He lives at present with his third wife Anne Marie in a town 30 miles north of Los Angeles and have a 11 year old daughter. Timeline, the movie may be out in the 2001 Christmas.

Back to top
---
Amazing Facts On M. Crichton:

Once, the bestselling American thriller writer Michael Crichton submitted an essay by George Orwell for an assignment on Gulliver's Travels. Surprisingly, he got a B-minus.

---
His works:
Fiction:
The Andromeda Strain
The Terminal Man
The Great Train Robbery
Eaters of the Dead
Binary
Congo
Sphere
Jurassic Park
The Lost World
Rising Sun
Timeline

Non-Fiction:
Five Patients
Travels
Electronic Life
Jasper Johns