MYSTERY WRITERS.INFO


Ruth Rendell


Awards


Praises


Bibliography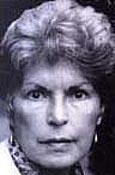 Ruth Rendell (1930-...), an English author is internationally famous for her detective novels and stories as well as suspense novels. Rendell also wrote under the name Barbara Vine.
Rendell' s first novel was Doon to Death (1964) introducing Chief Inspector Reginald Wexford. The Wexford novels are set in Suffolk, England, Rendell' s home. The books have been praised as models of the police procedural type of detective story, with strong plots and vivid characters. Other Wexford novels include The Best Man to Die (1969), Murder Being Done Once (1972), Shake Hands Forever (1975), and Road Rage (1997).
Rendell had also written many psychological thrillers. Most of them deal with sexual obsession, the generation gap between parents and children, and complex characters relentlessly moving toward violence. The first was To Fear a Painted Devil (1965). Others include The Lake of Darkness (1980), The Tree of Hands (1984), and Live Flesh (1986).

Rendell began writing detective stories under the name Barbara Vine, beginning with A Dark-Adapted Eye (1985). Later Vine books include A Fatal Inversion (1987) and King Solomon's Carpet (1991).

In addition to her novels, Rendell has written several collections of short stories. They include The Fallen Curtain (1976) and The Copper Peacock (1991).

Ruth Barbara Grasemann was born in London. She married Donald Rendell in 1950 and at present lives in a sixteenth-century farmhouse in Suffolk.
---

Awards:



Her novel A Judgement In Stone is included in the Top 100 List of Best Mystery Books compiled by the English critic and mystery writer H.R.F Keating.
| | |
| --- | --- |
| Crime Writer's Association Gold Dagger for 1976 | A Demon in My View |
| A second Edgar in 1984 from the Mystery Writers of America for the best short story | The New Girl Friend |
| Gold Dagger award in 1986 | Live Flesh |
| Sunday Times Literary Award | ----------- |
| Crime Writers' Association Cartier Diamond Dagger | ----------- |
---
Ruth Rendell and P.D. James are now widely acknowledged as the heiress-apparent to Agatha Christie. - Los Angeles Times
Undoubtedly one of the best writers of English mysteries and chiller- killer plots. - Los Angeles Times
Each new book reinforces Miss Rendell' s reputation as a powerful, literate writer with psychological insight. -Washington Post Book World
You cannot afford to miss Ruth Rendell. - The New York Times Book Review
There is no English crime writers who is so sharply observant of her chosen suburban and exurban world as Ruth Rendell...the shock endings are real real surprises. - The Sunday London Times
Ruth Rendell is the ultimate anatomist of the human psyche, probing behind public facades to reveal private torment and distorted visions that change the way we view the world around us. -Val McDermid
Ruth Rendell is one of those rare writers who genius makes you look at the world in a different way... When people talk sometimes of the poetry of which a novel may be capable, this above everything is what they mean: the ability to make the ordinary seem extraordinary. -Allan Massie, Scotsman

One of the best novelists of today.- P.D. James
---


Bibliography:
(from her latest to the old ones)
Harm Done
A Sight for Sore Eyes
Road Rage
The Keys to the Street
Simisola
The Crocodile Bird
Kissing the Gunner's Daughter
The Cooper Peacock
Going Wrong
The Bridesmaid
The Third Wexford Omnibus
The Second Wexford Omnibus
The Veiled One
Talking to Strange Men
Live Flesh
Harm Done
A Sight for Sore Eyes
Road Rage
The Keys to the Street
Simisola
The Crocodile Bird
Kissing the Gunner's Daughter
The Cooper Peacock
Going Wrong
The Bridesmaid
The Third Wexford Omnibus
The Second Wexford Omnibus
The Veiled One
Talking to Strange Men
Live Flesh
The New Girlfriend (Short Stories)

The New Girl Friend, 1983. (Ellery Queen, August, 1983.) Edgar
A Dark Blue Perfume, 1985. (Ellery Queen, #518, June, 1986.)
The Orchard Walls, 1985. (Ellery Queen, May, 1985.)
Hare's House, 1984. (Ellery Queen, #516, April, 1984.)
Bribery and Corruption, 1985. --The Whistler, 1985. (Ellery Queen, July, 1985.)
The Convolvulus Clock, 1985. --Loopy, 1982. (Ellery Queen, February, 1983.)
Fen Hall, 1985. (Ellery Queen, March, 1985.)
Father's Day, 1984. (Ellery Queen, August, 1984.)
The Green Road to Quephanda, 1980. (Ellery Queen, January 1, 1981.)

An Unkindness of Ravens
The Killing Doll
The Tree Of Hands
The Speaker of Mandarin
Master of the Moor
The Fever Tree (Short Stories)

The Fever Tree, 1982. (Ellery Queen, June, 1982.)
The Dreadful Day of Judgement, 1982. (Ellery Queen, December, 1984.)
A Glowing Future, 1977. (Ellery Queen, September, 1977.)
An Outside Interest, 1981. (as The Man Who Frightened Women, in Ellery Queen, January 27, 1982.)
A Case of Coincidence, 1982. (Ellery Queen, June 30, 1980.)
Thornapple, 1982. (as The Boy Who Collected Poisons, in Ellery Queen, February 25, 1981.)
May and June, 1982.
A Needle for the Devil, 1980. (Ellery Queen, November 3, 1980.)
Front Seat, 1978. (as The Truth Will Out, in Ellery Queen, December, 1978.)
Paintbox Place, 1980. (as The Paintbox Houses, in Ellery Queen, March 10, 1980.)
The Wrong Category, 1982.

Put on by Cunning
The Lake of Darkness
Make Death Love Me
Means of Evil (Short Stories)

Means of Evil, 1977. (as The Case of the Shaggy Caps in Ellery Queen, November, 1977.)
Old Wives' Tales, 1979.
Ginger and the Kingsmarkham Chalk Circle, 1979.
Achilles Heel, 1978. (aka Inspector Wexford on Holiday)
When the Wedding Was Over, 1979.

A Sleeping Life
A Judgement in Stone
A Demon in My View
The Fallen Curtains (Short Stories)

The Fallen Curtain, 1974. (Ellery Queen, August, 1974.) Edgar
People Don't Do Such Things, 1976.
A Bad Heart, 1973. (aka Trapped)
You Can't Be Too Careful, 1976.
The Double, 1975. (aka Meeting in the Park in Ellery Queen, December, 1975.)
The Venus Fly Trap, 1973. (as Venus's Flytrap in Ellery Queen, January, 1973.)
His Worst Enemy (aka The Clinging Woman in Ellery Queen, February, 1975).
The Vinegar Mother, 1976.
The Fall of a Coin, 1975. (Ellery Queen, June, 1975.)
Almost Human, 1975.
Divided We Stand, 1976

Shake Hands Forever
The Face of Trespass
Some Lie and Some Die
Murder Being Once Done
No More Dying Then
One Across, Two Down
A Guilty Thing Surprised
The Best Man to Die
The Secret House of Death
A New Lease of Death
Wolf to the Slaughter
To Fear a Painted Devil
Vanity Dies Hard
From Doon with Death
Ginger and the Kingsmarkham Chalk Circle
Heartstones
Murder by the Book
Mystery Cats