---
R.L. STINE is the author of more than two dozen best-selling thrillers and mysteries for young people. Some of his books published by Scholastic are the Goosebumps Series and Fear Street Series.

He is even the head writer of the children's TV show Eureeka's Castle seen on Nickelodeon. He lives in New York City with his wife, Jane and twelve year old son, Matt.

---

'I've yet to meet a 10 year old who hasn't been entranced by its witty, complex plot and the character of the eponymous Harry.' - The Independent

Winner 1997 Smarties Book Prize 9-11 Category

Shortlisted 1998 Guardian Children's Fiction Award

Category;Winner 1998 Children's Book Award
Harry Potter and the Chamber of Secrets
'Such a marriage of good writing, inventiveness, and sheer child-appeal has not been since Roald Dahl, perhaps even since Tolkien, Lewis and Ransome. J.K. Rowling has woken a whole generation to reading.' -The Times


Winner 1998 Smarties Book Prize 9-11 Category;Shortlisted 1998 Whitbread Book of the Year Award Children's Book Category;Winner 1999 Children's Book Award; Winner 1999 Children's Book Award: Long Novel Category

Winner 1999 Children's Book Award; Winner 1999 Children's Book Award: Long Novel Category
Harry Potter and the Prisoner of Azkaban
'One warning. If you are going to read this to your children , make sure you start early in the evening . There are so many surprising twists that you will not be allowed to put the book down even if you wanted to.'- The Sunday Express

Winner 1999 Whitbread Book of the Year Award Children's Book Category
Winner of the 2001 Hugo Award for Best Novel, voted by members of the 2001 World Science Fiction Convention.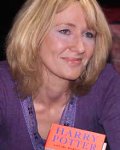 Ten Favorite Books of JK Rowling:

The Story of the Treasure Seekers - Edith Nesbit

Mansfield Park- Jane Austen

Books by Roddy Doyle

Lolita - Vladimir Nabakov

I Capture the Castle - Dodie Smith

Cautionary Tales for Children - Hilaire Belloc

Biographies of Kennedy Family

Biographies of Mitford Family .

Pride and Prejudice - Jane Austen
Back to top

JUDY BLUME (1938- )
Judy Blume, a popular writer for children was born on February 2, 1938 in Elizabeth, New Jersey. She married John Blume and has a daughter and a son. At present, Judy lives in New York City and in Santa Fe, New Mexico. In her books for children she used her childhood memories. Some of her famous books are "Tale of a Fourth Grade Nothing", "Are you there god, it's me Margaret" and Superfudge". Eventhough she has tried something different by writing "Summer Sister", it has not paid off since no one expects her to write beautifully as she does for children.

| | |
| --- | --- |
| Link to her official site | |
Enid Blyton (1897-1968)


Enid Blyton was born on August 11, 1897 in a small house in London suburb of Beckenham. Her childhood days were not happy memories since her parents had quarrel more than often. One day, when she was of age 13, her father left them.

She was trained as a teacher and her first stories were told to her pupils. From 1922, the stories got published in the magazine Teacher's World.

Her first long stories for older children were Mr. Galliano's Circus and The Secret Seven (1938). In the 1940s and 19502, her famous series such as The Naughtiest Girl (1940), The Twins at St. Clares (1941), Five on Treasure Island (1942), The Mystery of the Burnt Cottage (19430, First Term at Malory Towers (1946), The Secret Seven (19480, The Rockingdown Mystery (1949) and Noddy (1950). In her life time she had written about 700 books and 10,000 stories, most of which are still in print.

Not only Enid Blyton could create a world where children can be by themselves but she could also create them at a very fast pace. She started writing The Island Of Adventure on a Monday morning and by Friday afternoon it was completed.

Her books are still sold in 40 different languages. Her three memorable characters Noddy, Amelie Jane and Mary Mouse are found in T-shirts, CD-ROMs, video games etc.

Moral of most of her books are- "Right or wrong has to be learned; Happiness earned.'

Link to her official website

Amazing Facts about Enid Blyton

Enid Blyton remains in the top three of children's authors surpassed only by Roald Dahl and Asterisk books. In the year 1995, they touched the 8 million mark with translations in 40 languages.

She started writing The Island Of Adventure on a Monday morning and by Friday afternoon, it was completed.

The first children's book printed in English was a book of rhymes titled A Book in Englyssh Metre of the Great Merchant Man called Dives Pragmaticus. It was printed by Alexander Lacy of England in 1563

Two daughters of Enid Blyton said this about her-


The younger daughter Imogen Smallwood alleged on a Channel Four Secret Lives documentary on Blyton that her mother was so busy writing about happy children in pretty, sunlit worlds, she had no time for her own daughters.

On contrary, eldest daughter, Gillian Baverstock said- " I was very happy as a child.", describing a mother who picked her up from school, took her on a wonderful nature walks and gave her the delight of reading the Famous Five's adventures straight from the typewriter.

Beatrix Potter was born in 1866 in Kensington to wealthy parents Rupert and Helen potter. She was not just a writer for children but was also a farmer, a botanist and a landscape artist. At a small age, she learnt to draw objects. She started her professional career in 1890. Her book "The tales of a peter rabbit " considered to be one of the best selling children's books of all time" had been translated into 23 languages. Twenty five more tales followed Peter such as "The Tailor of Gloucester", "Squirrel Nutkin", "Johnny Town Mouse", "The Fairy Caravan", "The Tale of Benjamin Bunny", "Pigling Bland", etc.

Click here for her best website
Download her famous book The Tale of Peter Rabbit


CREATOR OF PETER PAN ( 1860-1937)
Sir James Mathew Barrie was born in 1860 in Kirriemuir in Scotland. His father was a handloom weaver and he was the ninth son of ten children. His mother Maigret Ogilvy expected very much from her elder son, David. David was very athletic and handsome while James had none of his brother's features. James was neither good in studies. He was looked after by his older sister Jane Ann. Before David's 14th birthday he went to a skating party where he met with an accident and died. Then James was just six years old. On his sister's persuasion he stayed near his heartbroken mother and from then onwards his mother started to recover form the shock as she realised she had another boy. The memories of her elder sister Ann led him to the creation of Peter Pan's beloved Wendy.

Surprisingly James did not grow up in size as he became older. He was just 4 ft 11' when he was 17. He did not start shaving until he was 22.

James was educated at Dumfries and Edinburgh University. To make his mother happy he had to somehow achieve success. He thought he could do so by only writing. He started earning small money by writing critiques of plays Edinburgh Cousant. Upon graduation, he wrote for Nottingham shire Journal, an experience described in When a Man's single. With only £ 12 and all his things in a single trunk he left for London in a train. He had success after writing plays. By the turn of the century he was one of London's most famous playwright.

He got married to Mary Ansell but it wasn't a successful marriage. After their first anniversary James's mother died and was buried in the same grave that held David's body.

Barrie was very fond of children and used to amuse small children in a park by performing tricks with Porthos, his St. Bernard. With the image of his dog he created Nana, the nursery watch dog of Peter Pan.

In that park he met the children of Davies: 4 year old George, Jack three and baby Peter. One summer Barrie spent with the Davies family on Black lake in South eastern England. In the afternoon they invented games of pirates, Red Indians and fairies. The account of the summer was made into a book called "The Boy Castaways of Black Lake Island which became an inspiration for Peter Pan.

Peter was first performed on October 1904. It was followed by a story Peter Pan in Kensington Gardens in 1906. The play was produced in book form in 1911. He achieved a lot of fame but little happiness. He and his wife divorced, his friends Arthur and Sylvia Davies died early death, George the oldest was killed in the First World War and Michael, Barrie's favorite drowned a few years later.

In 1929, he turned over the rights of his most beloved word to London's Great Ormond Street Hospital for sick children.


The creator of Babe the pig was born in 1923 in a village 5 kilometers away from where he lives at present. He lives with his wife of 55 years in a 17th century cottage. He first met his wife Mayrle England at the age of 13 on Christmas Day in 1935. They got married in 1943.

In his life he has taken up every professions like soldier, farmer, traveling salesman and shoe factory time-and-motion man.

He wrote his first book The Fox Busters 22 years ago. More than 90 books had been written by him. Now at the age of 76 he continues to publish a new book every 3 or 4 months.

His just published book including The Sheep Pig have been printed with the help of Joanna Goldswrthy. His fame as a children author was realized with the publication of his second book Daggie Dogfoot.

He mainly targets his readers to be around 7 to 11 years. He just published Godhanger in 1997 for adult and The Crow Starver in 1998, July. The character "Babe the pig" in Babe and Babe: Pig in the City which are successful movies under the production Universal Studios was taken from his book "The Sheep Pig." Now he is one of the popular living children's writer with about 6 million books sold in Britain alone.

In a poll conducted by BBC of young reader's favorite writer, he was beaten by only late Roald Dahl and the American writer R.L. Stine.

The comic character of Tintin sold 175 million copies worldwide in 31 languages. The Tintin series was written by a Belgian named Herge who was born in 1907. Tintin at present is a 70 year old comic book hero. The animated version of Tintin is at present rated inside Top Ten programmes in Cartoon Network.


Roald Dahl (1916-1990)

Roald Dahl was born in Llandaff, Glamorgan in 1916 and educated at Repton School. But his parents were Norwegian. On the outbreak of Second World War, he enlisted in the RAF at Nairobi. At 18, he went to work for the Shell Oil Company in Africa.

His collection of short stories are Over to You, Someone Like You, Kiss Kiss, Twenty-Nine Kisses from R. Dahl, Switch Bitch, Ah Sweet Mystery of Life, Tales of Unexpected, More Tales of Unexpected, My Uncle Oswald, Wonderful Story of Henry Sugar and Roald Dahl's Book of Ghost Stories. All these short stories of his are for grown ups. But Roald Dahl is most remembered for his stories for children. like Charlie and the Chocolate Factory, James and the Giant Peach, The Magic Finger, The BFG, Matilda, Esio Trot, The Twits, Great Glass Elevator and Fantastic Mr. Fox. The Witches was the winner of the 1083 Whitbread Award.

Roald Dahl passed away on November 1990 at the age of 74.

WONDERFUL CHILDREN'S BOOKS OF ALL TIME
The Tale of Peter Rabbit, by Beatrix Potter

Charlotte's Web, by E.B. White

Winnie-the-Pooh, by A. A. Milne

Are You There God? It's me Margaret

The Cat in the Hat, by Dr.Seuss

The Chronicles Of Narnia, by C.S. Lewis

The Wind In The Willows, by Kenneth Grahame

Animal Farm, by George Orwell

Charlie And The Chocolate Factory, by Roald Dahl

The Witches, by Roald Dahl

The Diary Of Anne Frank, by Anne Frank

Ramona The Pest, by Beverly Cleary

Harry Potter Series, by J.K. Rowling

The Goblet of Fire - JK Rowling Bloomsbury - Many few of the children needs to be told about Harry Potter, the sensational wizkid therefore I will leave it to you to say some words about this fourth Harry Potter book.

Captain Underpants and The Perilous Plot of Professor Poopy Pants- Dow Pilkey Blue Sky/Scholastic- The fourth book of Dow Pilkey' s Captain Underpants Books (3 million copies) is about two school students Harry and George who hypnotize their principal into thinking that he is a super hero called as Captain Underpants.

There is a Mouse in Roosevelt House- Jacqueline Lundquist and Samuel Celeste- Picture book by J. Lundquist who is the wife of the US ambassador to India and her three year old son Samuel. It's a partly real account of an impish mouse that interrupts important meetings and dinners at the ambassador's residence and leaves with Clinton's Air Force One for the White House. The last bit was fantasized by her son.

An eight year old named, Sahara Sunday Spain published her collection of poems "If There Would Be No Light" in May. Remarkably, she got an advance fee amounting to £66,000. There will be an introduction by Maya Angelous, the author of "I Know Why The Caged Bird Sings".
| | |
| --- | --- |
| | Maya Angelous |